Total Productivity Assurance
SmartSkin has you covered from all angles
In today's fast-paced and highly competitive food and beverage industry, ensuring the highest quality and efficiency in production processes is paramount. Manufacturers face significant challenges in identifying and addressing potential damages to containers as they traverse through the production line. Damaged containers can lead to product wastage, production delays, and even compromise consumer safety.
To meet these challenges head-on, we introduce SmartSkin Total Productivity Assurance – a cutting-edge solution that seamlessly blends hardware and software to optimize production lines and safeguard container integrity. This innovative system is specifically tailored to meet the needs of food and beverage manufacturers, enabling them to take control of their production processes like never before.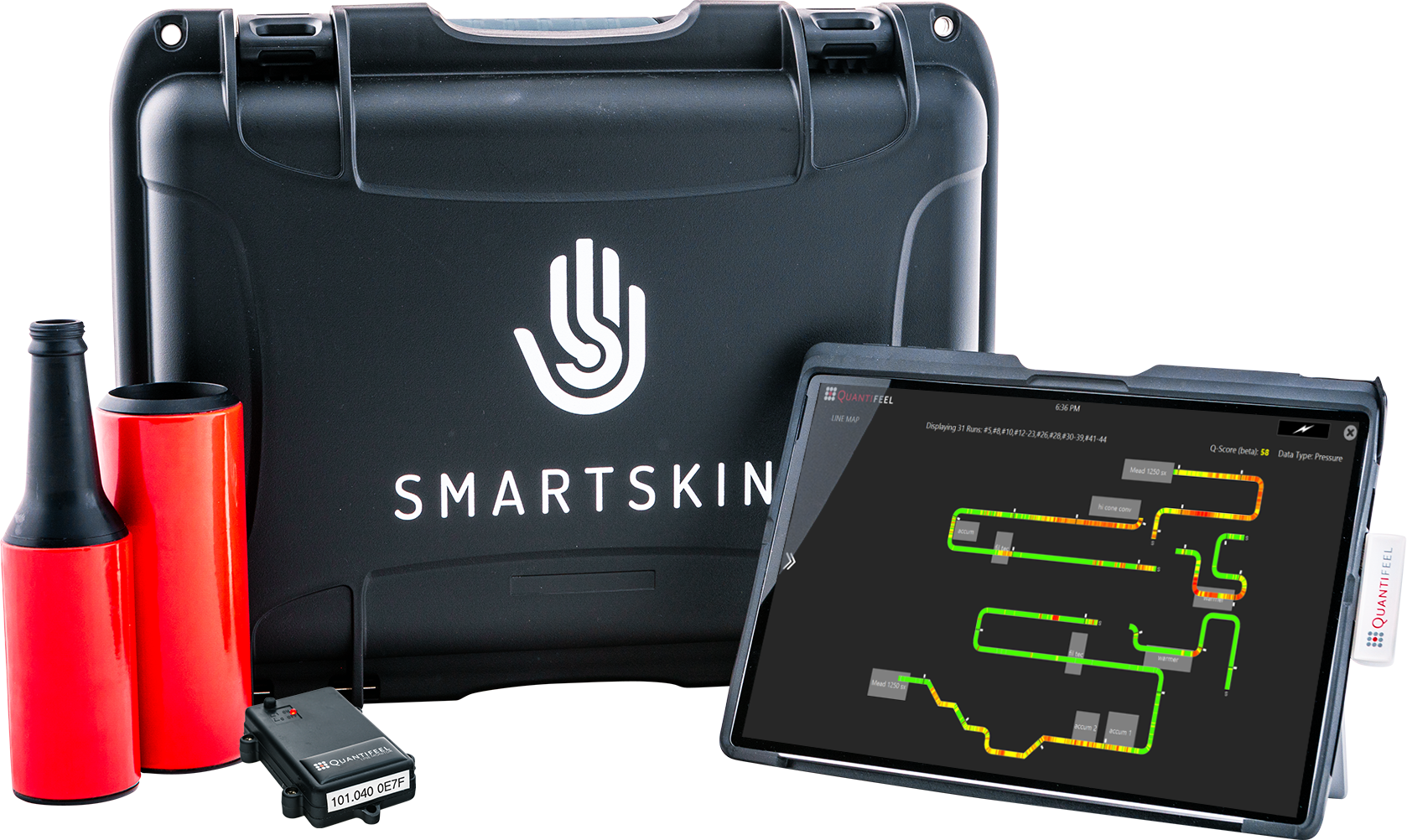 Make data-driven decisions that positively impact your bottom line and reputation.
SmartSkin Total Productivity Assurance brings together the best of hardware and software to empower food and beverage manufacturers with a comprehensive solution for optimizing production lines, diagnosing root causes of damage, and proactive decision-making.
By safeguarding container integrity and enhancing productivity, SmartSkin sets a new standard for efficiency and quality assurance in the food and beverage industry.
With this revolutionary tool, manufacturers can confidently navigate the complexities of production and meet the demands of the market with unmatched precision.
FAQ's
Diagnose. Trend. Predict.
Total Productivity Assurance solution offers stakeholders of food and beverage manufacturers the means to elevate their production processes, improve product quality and safety, optimize efficiency, and gain a competitive advantage. With its ability to proactively address potential issues and provide valuable insights,
SmartSkin stakeholders to make data-driven decisions that positively impact their business's bottom line and reputation.
Enhanced product quality and safety
Prevent containers from being exposed to harmful forces during production, ensuring the integrity of products. By detecting and dealing with potential damages early, you can trust in the consistency and safety of your products, resulting in higher consumer trust and loyalty.
Minimized product wastage
Damaged containers often lead to product wastage, which not only impacts profitability but also results in environmental concerns. SmartSkin enables you to proactively address potential issues, reducing product wastage and optimize resource utilization.
Streamlined production processes
Identifying the root cause of damage through SmartSkin's intelligent analysis empowers you to optimize and streamline production processes. By addressing bottlenecks and weak points, you can achieve greater efficiency and throughput, ultimately leading to cost savings and improved profitability.
Reduced downtime and overhead
Unplanned downtime due to unexpected damages or malfunctions can be costly for manufacturers. SmartSkin's ability to predict potential issues allows you to schedule maintenance and repairs proactively, minimizing unplanned downtime and reduce maintenance costs.
Data-driven decision making
SmartSkin provides you with comprehensive and actionable data, enabling you to make informed decisions based on real-time insights. By leveraging data-driven decision-making, you can implement targeted improvements and optimizations, driving continuous improvement across the production line.
Competitive advantage
In a competitive market, having a reliable system like SmartSkin that ensures product integrity and efficiency can become a significant differentiator. Offering a higher level of quality assurance can attract new customers and strengthen relationships with existing ones.
Regulatory compliance
SmartSkin's ability to monitor and pinpoint adverse forces aligns with regulatory requirements, demonstrating a commitment to compliance and responsible manufacturing practices.
Ease of use and implementation
SmartSkin's user-friendly interface and easy integration into existing production lines make it an attractive solution. Minimizing disruption during implementation ensures a smooth transition and faster ROI.
Contact us
Schedule a virtual demo of SmartSkin's patented technology. A SmartSkin expert will walk you through the technology, capabilities and implementation.